Here are some handy interior fit out guidelines to think about before committing to an office interior fit out.
According to a recent study, 88% of companies believe that their Office Fitouts positively impacted employees. 
So, you're looking to move into a brand new office or fit out your current one to cultivate a thriving workplace environment for your employees. When you are planning for an office fit-out, there are a tonne of thoughts that will go through your mind. Office interior fit out guidelines are crucial if you want to stick to the budget and timeline. This is quite a big process; there are heaps of elements that need to be considered. You'll wonder if the layout is going to be good enough. You might wonder if it is going to be efficient or not. And you'll start to question if the ideas that you want could be implemented well or not, or if it will go over budget. 
The first and most important thing is to create your interior fit out guidelines that will cover all your office interior fit-out stages. By following an organised system, you can make sure that every small detail is taken care of and ensure your fit-out goes as planned, on time and at a reasonable cost. If you need some help, we thought we would highlight some interior fit-out guidelines for you to consider. 
Decide what type of fit-out is required 
Okay, so the first thing to decide on is exactly what sort of fit-out is required and why. The jobs and services required for a fit-out vary widely depending on the business and the extent to a fit-out, but usually, the process goes as follows: 
The shell and core fit-out:
So the "Shell and Core" are the mainframe of the building. This process is building the initial building framework such as columns, structures and size. The next stage is designing the category A fit-out.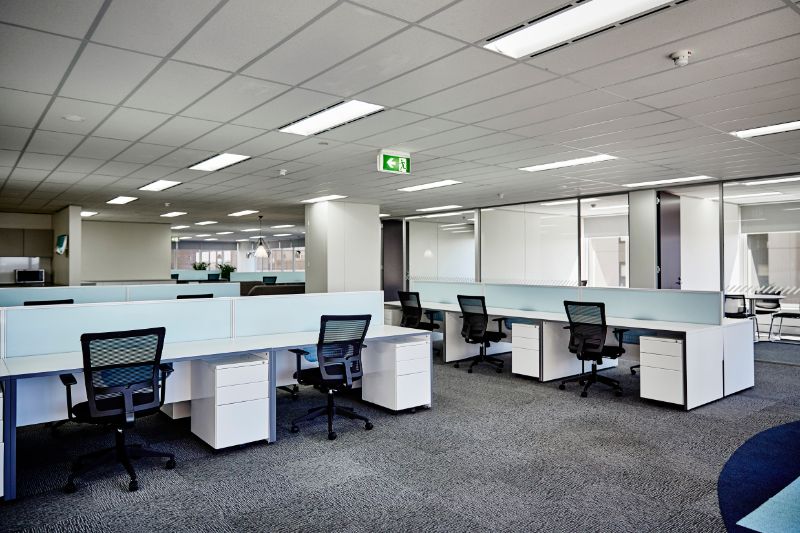 There are two main processes of fit-outs:
Category A refers to a blank slate; it refers to designing the framework, including the electrical, mechanical installations, ceilings, lighting, grid fittings, flooring and air conditioning. This is usually conducted with new buildings and office relocations. Local council laws will need to be considered with this category and frequently will require an engineer, architect's services, electrical contractors and an interior designer. The more time-consuming of the two, it will require its own parameters and upon hiring a building company, you should receive a flow chart of how this process will go.
On the other hand, Category B refers to the internal space according to the established layout and tenants requirements. Category B involves mainly design elements rather than fittings and building as the framework is already set out. Although this is the more straightforward step of the two, it also allows for less freedom when designing the perfect layout as the parameters are already in place. Category B includes processes like shopping for new equipment, assigning meeting rooms, conference rooms, installing furniture and designing flow according to the requirements of the business.
Overplan
Okay, so you've decided it's time for a change. You probably already have an idea of whether you want to relocate or simply move the old layout around. You probably already have an idea about the budget and the renovations you want to be made. But you want to take the time to flesh out the details of these blueprints so that you can make sure you stick to the budget, timeframe and won't have any sneaky bumps along the way. There's nothing worse than having a productive team ready to go, with nowhere to work due to delayed renovations and moving days. So with a descriptive plan, you can make sure you time it just right. Now is the time to consider questions about the cost, the time, and the reasons. Here are the things to start asking yourself:
Why is a fit-out required at this time?

What are the essential requirements for the fit-out?

How many jobs will need to be outsourced for this fit-out

What is your budget for each task?

What is the timeframe you want the fit-out to be completed?

What is the best way to ensure continued productivity during this fit-out?
Cost
How much will an Office Fit Out Cost?
This will vary widely depending on multiple things like your budget, whether you are moving into a new building or renovating the old one, and whether you are upgrading equipment, replacing them, or getting all new equipment. Where only cosmetic changes are needed, the costs can be relatively low, but it's essential to decide on a budget before you begin. Make a list of all the things you are considering and get detailed quotes and prices for everyone. Consider materials, used or new, and training and transport costs. It's also a good idea to keep a contingency plan of 10% of the total project for unplanned expenses.
Time
How much time does an Office Fit-Out take?
This is perhaps the most crucial element to get right, as the timing can mean the difference between a few days being able to begin work and a few months. If this is left unplanned, you can end up waiting around for workers and delaying the time you can actively earn money in the space indefinitely. Make sure you are time efficient with every stage of the process. Perth skip bin hire is time efficient and easy, being able to organise next-day hires to clear up space and time for each contractor, so they don't have to spend their time cleaning up the last contractor's mess, ultimately costing you time and money.
Reasons
If you can remember to highlight a few key reasons you want to do this fit-out, you can ensure that every decision can be made with those intentions in mind. It is an investment in your company's future and the people that belong to it. By ensuring your interior fit-out guidelines align with your business values, you can make sure it is worth it. Take a look at the Kwik Skips website today to book skip bins for your office fit-out and half your moving stress, and focus on preparing for the future.